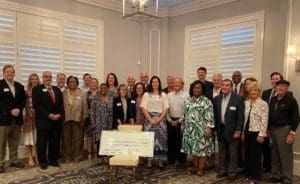 Kiwanis Club of Skidaway raises awareness about at-risk children's needs, and working to meet them is an integral part of all of our activities. We provide financial and service resources through our community events, our corporate sponsor program, and our members' commitment of time, talent and treasure.
Since Kiwanis Club of Skidaway was established (in 1988, initially as Golden K of Skidaway), we have supported more than 40 area organizations in Chatham County and donated countless thousands of volunteer hours; and we have provided more than $1,500,000 of grants.  The primary focus of our fundraising is to support local agencies that serve at-risk children and their families.
In 2021, Kiwanis Club of Skidaway donated over over $72,000 to various programs that support at risk children in Savannah.
During our fiscal year ended September 30, 2021, our club mobilized $72,500to support projects and programs that serve children.
$72,500 of grants were awarded on September 23, 2020 to the agencies listed below;  In addition during the year, the club provided $1,000 of grants to Kiwanis International, Kiwanis and the Georgia District.
We recognize and thank our Corporate Sponsors for their generous support of our fundraising efforts.
Our Service Leadership Projects include: Junior Achievement and, L.O.V.E. Mentoring. Unfortunately these activities were severely curtailed because of the pandemic. However, our members found ways to get involved in many other hands-on service projects.
2021 Grant Recipients
These agencies received Kiwanis grants. Scroll down to learn more about these agencies and how they plan to use our grant.
America's Second Harvest — Kids Cafe, helpendhunger.org
Coastal Children's Advocacy Center, ccac-savannah.org
Frank Callen Boys and Girls Club, bgcsavannah.org
Greenbriar Children's Center, greenbriarchildrenscenter.org
Horizons Savannah, horizonssavannah.com
Local Outreach Volunteer Educators (L.O.V.E.), lovementors.org
Mediation Center of the Coastal Empire, mediationsavannah.com
Park Place Outreach Youth Emergency Shelter, parkplaceyes.org
Performance Initiatives Fitness Savannah, pifitness.org
Union Mission, unionmission.org
Xcel Strategies, Inc, xceltoday.co
Learn More About Our 2021 Grant Recipients
Through the Kids Cafe program, America's Second Harvest of Coastal Georgia provides direct intervention feeding, after-school programs, and mentoring for at-risk youth at 49 locations to more than 2,800 children each day. The program ensures that children have a safe, nurturing place to go during the critical hours after school when parents are often working. Our grant will be used to purchase food and to ensure children have proper nutrition.
Coastal Children's Advocacy Center provides a confidential, child-friendly site for video-recording forensic interviews with child abuse victims and witnesses to violence. In addition, it offers counseling, play therapy, crisis intervention, referrals to other community agencies, court testimony and follow-up services. Kiwanis funds will be utilized to support the Heart Program. The funding will help CCAC continue to help youth who have been sexually abused heal and improve their physical and emotional health.
Frank Callen Boys and Girls Club is a non-profit organization focused on youth development.
Kiwanis funds will be used to employ and full time nurse. Without an LPN the club cannot offer children onsite activities and support. The financial gift from Kiwanis will contribute to our club continuing its health-related and other youth programs so critical to their development.
Horizons Savannah, an affiliate of Horizons National, provides an academic, cultural, and recreational program to 180 students from low-income families, helping to close the achievement gap by preventing summer learning loss and encouraging academic growth. :Kiwanis funds will be utilized to support a summer learning program. In 2021-2022 Horizons plans to re-launch their traditional in-person programming ,following all local  and CDC guidance
Frank Callen Boys and Girls Club is a non-profit organization focused on youth development. :Kiwanis funds will be used to employ and full time nurse. Without an LPN the club cannot offer children onsite activities and support. The financial gift from Kiwanis will contribute to our club continuing its health-related and other youth programs so critical to their development.
Greenbriar Children's Center We provide childcare, accredited and affordable early learning programs (including Georgia-PreK), family preservation and counseling services as well as an emergency shelter for children and families.  Kiwanis funding will help the center's infant care initiative. The goal is to serve infants, providing children with a  consistent program of nurturing care and education from birth through Pre-K.
L.O.V.E. Summer Camp provides 60 to 70 children who are mentored during the school year with an opportunity to enjoy the days of summer and build on the reading, math, and life skills they developed during the school year. In addition, some of the camps teach children to swim or work on drawing and pottery-making skills, learning how to interact with other children along the way. Kiwanis funds are going to be used for mentoring and camp. For the  2021-2022 school year LOVE has two  main initiatives for the children that will require funding support. The initiatives are mentoring on a weekly basis and sending them to summer camps. The goal in 2022 is to obtain sufficient funding to have 100 to 130 students enjoy the wonderful experience of camp.
The Mediation Center of the Coastal Empire is a not-for-profit organization serving individuals, children and families at risk and in need of assistance. The center engages the power of volunteers and education to transform conflict into opportunity and increase access t justice. Kiwanis funding will provide support for the  Parent Team Conflict Management Program. The training will provide both teens and parents with the necessary skills for managing conflict constructively. The continued funding helps to maintain the existing model and  provide additional services for those families in need.
Park Place Outreach is an emergency shelter for neglected, abandoned, abused, homeless and runaway youth ages 11 through 17. They also run a street outreach program to assist young people up to the age of 21 with information and assistance regarding homeless issues and support services available in our area. I
Kiwanis grant will provide support for staff training to be certified in MEBM and TEBM. The funding also supports the Family Always Matters (FAM) program, serving youth ages 11-17 at risk  of separation from their family.
Performance Initiatives provides a safe and thriving after school environment for inner city youth. Coaches, tutors, and volunteers offer a variety of programs including athletic training, academic support, counseling, emotional wellness, fitness classes, summer camps and nutritional snacks. Clients learn how to defuse situations without violence while learning self-defense. They build confidence, organizational and leadership skills.  The Kiwanis grant will support an after school enrichment program. The program is targeted to serve ages 7-18 in at risk, low income families. The program focuses on character building, health, fitness, and social skills, in addition to summer reading lists, math, games, team building, and more.
Xcel Strategies, Inc  is a mentoring network that was founded in Savannah, GA in 2012 to care for young men between 15-25 years of age.  Xcel exists to FUEL YOUNG MEN WITH PURPOSE and passion to reach the fullness of their potential through a network of wise, seasoned, and trained mentors.
:The Kiwanis grant will help fund the Virtual Design Construction (VDC) Mobile Training  Unit.  This year has opened technology in the construction  design field. Xcel is embracing this new  technology and is planning to add this virtual training platform into a mobile training unit of its own.
Union Mission exists to prevent and end homelessness in the greater Savannah area.  Our grant to them supports ones of its programs- Magdalene House which, In 2017 served 121 homeless women and children. These 41 families were not only removed from the dangers of living on the streets and given safe shelter, but they were also provided meals, access to intensive case management, mental health services, plus employment and training opportunities. Magdalene House is a place of safety and support, dedicated solely to women and their children, offering not just shelter, but a helping hand in a time of crisis. The Kiwanis grant  will support the Magdalene House Children's Computer Learning Center. Union Mission will replicate the Dutchtown Campus Apartments computer center at the Magdalene House.
SaveSave