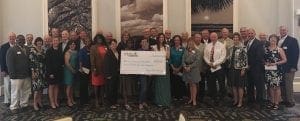 Kiwanis Club of Skidaway raises awareness about at-risk children's needs, and working to meet them is an integral part of all of our activities. We raise financial resources through our community events, our corporate sponsor program, and our members' commitment of time, talent and treasure.
Since Kiwanis Club of Skidaway was established (in 1988, initially as Golden K of Skidaway), we have supported more than 40 area organizations in Chatham County and donated countless thousands of volunteer hours; and we have provided more than $1,400,000 of grants.  The primary focus of our fundraising is to support local agencies that serve at-risk children and their families.
During our fiscal year ended September 30, 2016, our club mobilized $62,500 to support projects and programs that serve children. $50,000 of grants were awarded on September 29, 2016 to the agencies listed below.
In addition during the year, the club
provided $1,500 of Dollars for Doers grants to seven local agencies to address hunger, health, at fitness and promote safety and wellbeing for children in Chatham County
provided $2,900 of grants to Kiwanis International, Kiwanis Georgia District and Richmond Hill Key Club.
administered a Take a Chance for Kids raffle operated and sponsored by Savannah Early Childhood Foundation (SECF) that raised $11,000 for SECF's Parent University programs.
Members continued private donations to Kiwanis Foundation for a global health project (The Eliminate Project) to eliminate maternal and neonatal tetanus worldwide, increasing total donations to date to over $20,000. See more about The Eliminate Project and Kiwanis of Skidaway's support to Savannah Early Childhood Foundation below.
America's Second Harvest — Kids Cafe
Through the Kids Cafe program, America's Second Harvest of Coastal Georgia provides direct intervention feeding, after-school programs, and mentoring for at-risk youth at 60 locations to more than 3,800 children each day. The program ensures that children have a safe, nurturing place to go during the critical hours after school when parents are often working. Our 2015 grant will be used to purchase food and to ensure children have proper nutrition. helpendhunger.org/
Backpack Buddies
Skidaway Island Backpack Buddies provides food to 70 Butler Elementary School children. Food is packed up each week by a team of volunteers and then delivered by other volunteers (currently Kiwanis members) for the teachers to distribute to the eligible children for the weekend. Our 2015 grant will be used to purchase milk, juice, fruit, cereal, vegetables and protein from America's Second Harvest of Coastal Georgia. helpendhunger.org
Childhood Cancer Family Support Fund
Childhood Cancer Family Support Fund provides financial assistance to approximately 52 families with a child diagnosed with cancer, Sickle Cell disease or bleeding disorders. The Fund makes it possible for Memorial Health's medical team to provide holistic care to their pediatric patient families. memorialhealth.com
Coastal Children's Advocacy Center
Coastal Children's Advocacy Center provides a confidential, child-friendly site for video-recording forensic interviews with child abuse victims and witnesses to violence. In addition they offer counseling, play therapy, crisis intervention, referrals to other community agencies, court testimony and follow-up services. Our 2015 grant will be used to purchase informational materials for families and supplies for play therapy. ccac-savannah.org/
Family Promise of Greater Savannah
Family Promise of Greater Savannah (formerly Interfaith Hospitality Network of Coastal Georgia), through a network of host congregations, provides shelter, a day center, meals and individualized supportive services that ended homelessness for 93% of the families served in 2014. Our 2015 grant will be used to purchase curriculum materials, online security for academic literacy programs and field trips for the children and youth. familypromise.org
Horizons
Horizons Savannah, an affiliate of Horizons National, provides an academic, cultural, and recreational program to 180 students from low-income families helping to close the achievement gap by preventing summer learning loss and encouraging academic growth. Students attending Horizons reverse the accumulating summer learning loss on average 2-3 months' worth of skills each summer. horizonssavannah.com/
Junior Achievement
Through the time, talent and resources of corporate, education and community partners, Junior Achievement of Georgia inspires and prepares young people in K-12th grade, to succeed in a global economy. All programs align with Georgia's Common Core Performance Standards, to teach students about financial literacy, entrepreneurship and workforce readiness.
Junior Achievement uses hands-on experiences to help young people understand the economics of life. In partnership with local businesses and educators, JA brings the real world to students, opening their minds to their potential. Kiwanis Club of Skidaway is a "whole" school sponsor for Hesse Elementary. All classroom materials needed to support the program are paid for by our annual donation. In the last year, over 20 of our members volunteered as instructors for the programs as well. Excellence through ethics is stressed throughout the curriculum. georgia.ja.org
Local Outreach Volunteer Educators
(L.O.V.E. Mentors)
L.O.V.E. Summer Camp provides 60 to 70 children who are mentored during the school year with an opportunity to enjoy the days of summer and build on the reading, math and life skills they developed during the school year. In addition, some of the camps teach children to swim or work on drawing and pottery making skills, learning how to interact with other children along the way. lovementors.org
Mediation Center of the Coastal Empire
The Mediation Center of Savannah provides broad social services to families and children including mediation services, parenting programs, educational/training programs, and assistance with completing legal documents. In addition, the center facilitates peer mediation for those who cannot afford private mediation services. mediationsavannah.com
National Museum of the Mighty Eighth Air Force
National Museum of the Mighty Eighth Air Force provides a variety of children-oriented programs including one called Character Counts. With the Character Counts program, trustworthiness, caring, fairness, responsibility, citizenship, and respect are integrated into Mighty Eighth tours as well as classroom activities across the entire Chatham County school district. mightyeighth.org
Park Place Outreach
Park Place Outreach is an emergency shelter for neglected, abandoned, abused, homeless and runaway youth ages 11 through 17. Park Place also runs a street outreach program to assist young people up to the age of 21 with information and assistance regarding homeless issues and support services available in our area. In 2014, the program served 89 clients and disseminated 9,600 informational handouts. Our 2015 grant will be used to supplement basic operations and after-school programs for the youths in residence. parkplaceyes.org
Performance Initiatives Fitness Savannah
Performance Initiatives provides a safe and thriving after school environment for inner city youth. Coaches, tutors, and volunteers offer a variety of programs including athletic training, academic support, counseling, emotional wellness, fitness classes, summer camps and nutritional snacks. Clients learn how to defuse situations without violence while learning self-defense. They build confidence, organizational and leadership skills. pifitness.org
Social Apostolate
Social Apostolate provides services to the homeless or "at risk" by providing hot meals, showers and hygiene; thrift store with highly discounted clothes and necessities; and services such as obtaining birth certificates, back-to-school needs, emergency medicine prescription assistance, clothing for job interviews, work shoes, special tools and transportation, eye exams and glasses, grocery assistance and emergency baby needs. socialapostolate.org
Special Olympics
Special Olympics Area 17 serves about 1,000 athletes aged 2 to 21 and their families providing year-round sports training and athletic competition in a variety of Olympic-type sports for all children and adults with intellectual disabilities, giving them continuing opportunities to develop physical fitness, demonstrate courage, experience joy, and participate in the sharing of gifts, skills, and friendship with their families, other Special Olympics athletes and the community. In addition to our 2015 grant, Kiwanis of Skidaway volunteers helped with bowling and track and field events. specialolympicsga.org
Wesley Community Centers of Savannah
For more than 66 years, Wesley Community Centers of Savannah has provided critical services to women, children and families who are homeless and/or low income. Numerous programs work together to provide wrap around services that create both short-term and long-term solutions to help people out of poverty. These services include Wesley's Early Childhood Education Center, the Lady Bamford Early Childhood Education Center, the Multi-Cultural Youth Arts Camp and the Women Center. wesleyctrs-savh.org
Youth Challenge Academy
Youth Challenge Academy is a military-structured residential program providing GED and high school diploma programs, physical fitness, and discipline to 16 to 18 year-old high school dropouts. Our grant will be used to hire three part-time tutors for each of the two classes for the year. georgiayouthchallenge.org
Other FY2016 Support
The Eliminate Project is a 5-year Kiwanis International program to raise $110 million to eliminate maternal and neo-natal tetanus from more than 36 countries throughout the world. This is a devastating disease that is the result of poor birthing practices and dirty surgical instruments. A series of three shots given to women in childbearing years (and costing only $1.80) protects them and their future offspring from this disease. As of September 23, 2016, $110 million had been raised in cash and pledges. Maternal and neo-natal tetanus has been eliminated from 40 countries but remains in 19 countries.
While continuing its focus on supporting local at-risk children, Kiwanis Club of Skidaway and individual members contributed to this international program in 2016 for a total of over $20,000 since the project's inception. sites.kiwanis.org/Kiwanis/en/theELIMINATEproject/home.aspx
Savannah Early Childhood Foundation, in cooperation with a wide range of public and private sector partners, developed a groundbreaking new model to reach children in high-risk neighborhoods in the first two to three years of life, when science indicates the most critical brain development occurs and individuals learn the fundamental skills to help them succeed in life. By offering Parent University's Early Learning College to each child's very first teachers—their parents—SECF helps to empower parents with the skills needed to create a safe, nurturing, language-rich environment for the infants and toddlers in their life.
Kiwanis Club of Skidaway is a founding partner for Savannah Early Childhood Foundation and  administered a Take a Chance for Kids raffle that contributed $11,000 to Savannah Early Childhood Foundation this year. savannahecf.org