2016-2017 Board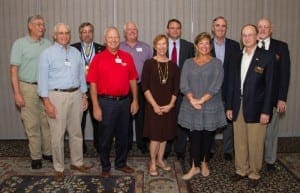 2016-2017 Board Photo coming soon. 2015-2016 Board L-R: Tim Baldwin, Charlie Arraiz, GA Kiwanis Lt Gov. Allan Rassi, Phil van Ess, Tom Stephens, President Joyce Glenn, Kevin O'Neil, Cecilia Russo, Treasurer Jay Ahrens, President-Elect Ben Gustafson, Past President Bob Norton. Missing from photo: Secretary Ron Weber, Chris Butler, Dave Fox, and Jan Wright.
2016-2017 Officers:
President – Ben Gustafson
Past President – Joyce Glenn
President Elect – Tom Stephens
V.P. Secretary – Jan Wright
V.P. Treasurer – Bruce Schneidewind
Terms:
Kiwanis Club of Skidaway's operating year
runs from October 1 through September 30.
Directors:
Terms expiring 2017
Charles Arraiz
Tim Baldwin
Cecilia Russo
Terms expiring 2018
Dave Fox
Kevin O'Neil
Jim Smart
Terms expiring 2019
Thom Greenlaw
Peter Pickerill
Jen Singeisen